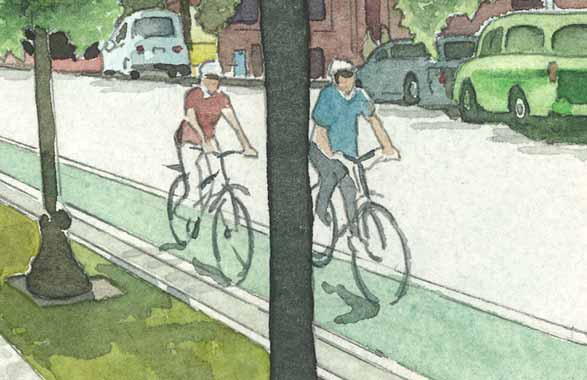 When Folsom voters outlined the requirements for future development by passing Measure W in 2004, they were adamant that the plan area not increase traffic on existing streets.
The final plan includes an abundance of transit improvements, with a road system that is now under construction and developer fee program to mitigate traffic impacts from the plan area. And that's just one of the many highlights of the transit plan for Folsom Ranch and adjacent projects.
Reducing congestion…and emissions
The transit plan that has been designed for Folsom Ranch adds more functional and direct routes to some destinations. These improvements to reduce congestion on critical roadways.
And before any pavement was laid, the project was noted for its land plan that is designed around transit connections and reduction of greenhouse gas emissions. Measure W didn't address greenhouse gas emissions, but a memorandum of understanding with Sacramento County did. Folsom and the county agreed to reduce emissions in the project area by 35 percent – against a national standard of 15 percent. Folsom's final plan nailed a whopping 42.5 percent.
Several speakers at the June 2011 public hearing to adopt the specific plan for the south area lauded this result. Mike McKeever, chief executive officer of the Sacramento Area Council of Governments, cited the plan's "extremely high air quality," and air quality expert Joseph Hurley reported the plan was "the only project of this size to achieve that much mitigation."
Master-planning expert Ardie Zahedani, who represented a landowners group, added that much of the credit for the savings can be attributed to a multimodal transit mix that incorporates attractive and convenient alternatives to driving, including bike lanes and sidewalks on all roads. These diverse modes of transportation along with new roadways and freeway interchanges will benefit all Folsom residents. The costs for the transit infrastructure are being borne by the landowners.
Here are the highlights of this award-winning plan:
Alder Creek Parkway. The transit plan is so varied it is hard to pinpoint a centerpiece, but the Alder Creek Parkway is certainly a contender. This arterial road – with traffic flow similar to that of Iron Point Road, said Folsom traffic section manager Mark Rackovan – will run parallel to and just south of Highway 50. The route, designed to give drivers a comparable alternative to the freeway, will extend from the El Dorado County line to the Hazel Avenue light rail station. The roadway will include bike lanes and six-foot-wide sidewalks.
Transit corridor. A transit corridor has been designated across the project map from Prairie City Road on the west to the juncture of White Rock and Placerville Roads in the southeast. This route can connect to all points in the plan area, and beyond, and will be planned as future needs are determined.
White Rock Road. This road, until recently a narrow, crooked, inconvenient stretch to the south, will be incorporated into what will become the 34-mile Capital Southeast Connector between Folsom and Elk Grove. The route, planned to be a major arterial joining with Grant Line Road, will allow Folsom drivers to bypass Sacramento to access Highway 99 and Interstate 5 going south. A component of this project has already been completed with the widening and realignment of a dangerous double-curve on White Rock Road just south of Prairie City Road.
Prairie City and Scott Roads. These two roadways already connect to White Rock Road, but they are being reconstructed as major arterials with bike lanes and wide sidewalks. "We are going to make really robust changes to them," Rackovan said, "bring them up to modern standards." Rowberry Road, near Iron Point and Oak Avenue Parkway, also will be extended to the plan area, and Placerville Road will be extended through a Highway 50 underpass to White Rock Road.
Two Highway 50 interchanges. New interchanges are planned at the future extensions of Empire Ranch Road and Oak Avenue Parkway. Empire Ranch Road will be lengthened to pick up White Rock Road. The two interchanges will help relieve congestion at the Scott Road/East Bidwell Street exit.
Internal transportation. The plan area is designed to make getting around efficient and convenient, Rackovan said. Buses will carry passengers to commercial and employment areas, and sidewalks and trails will be laid out to give access to shopping, schools, parks and events. Every roadway will include bike lanes and sidewalks. In addition, the area has been designed to foster convenient access by all modes of transit and to keep to a minimum the number of trips residents must make outside the area. "We've tried very hard to develop this plan area so it internalizes a lot of traffic," Rackovan said. "The residents will be able to meet their basic needs close to home. They aren't going to have to come north to shop for groceries, for example."