OPEN SPACE, PARKS AND CULTURAL RESOURCES
One of the highlights of the Folsom Ranch plan – for both current and future Folsom residents – will be many opportunities to enjoy permanently preserved open space, walking and bike trails, areas of historical and archaeological interest, public parks and recreation areas.
1,000 acres of preserved open space
In the northwest corner of the plan area, Alder Creek quietly flows through a nature corridor nestled in gentle hills, teeming wetlands and groves of blue oaks. Wildlife abounds here, too. With the opening of the preserve area at Folsom Ranch, generations of Folsom residents and visitors will enjoy this rich bounty for a long time to come.
A full 30 percent – more than 1,000 acres – of the area will be preserved as open space, and most of it will follow a swath along Alder Creek. This is pristine open space, much of it hidden for decades, that will have trails so it can be enjoyed by families, school groups and nature lovers.
Access to historic and archaeological finds
Along with its natural assets, this corridor is the site of many archaeological finds. The evidence paints a picture of historic gold mining activities along Alder Creek, indicated Lisa D. Westwood, director of cultural resources for ECORP Consulting, Inc. and the project's archaeologist. The earliest mining could take place only during rainy seasons, when the creek held water. Eventually, the Natomas Water and Mining Company built canals to bring water from the American River, allowing the miners to work their luck year round. Remnants of some of those old ditches are still visible.
"It's exciting to see that type of mining, different than what the average person thinks about when they think of gold mining in the Folsom area," Westwood said. There also are indicators of Native American activity in the area, she said. All historic and archaeological discoveries are being surveyed and preserved.
By law, specific locations of archaeological finds cannot be disclosed, but Westwood expects there will be interpretive signs along the trails to mark the area's history and encourage preservation.
"I'm glad to see a lot of the history being preserved under the strict guidance and authority of state and local archaeological preservation agencies," Westwood said. The state's Office of Historic Preservation and the National Historic Preservation Act as administered by the Army Corps of Engineers are providing oversight. "I have never before been involved in a project where so many cultural resources are being preserved." The landowners, who have agreed to maintain this nature area, "appreciate how important the history is," she added.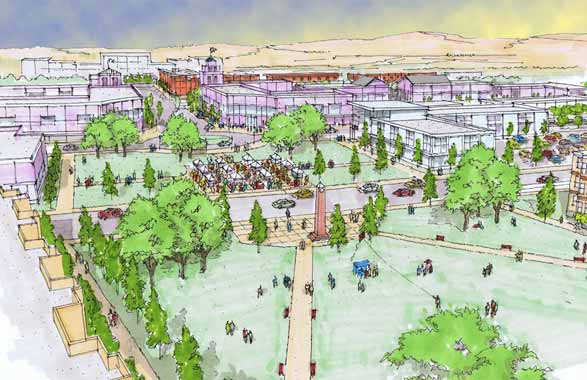 138 acres of improved public parks
Exceptional for this development, the calculation of the open space acreage does not include any park lands – which in themselves are generous. At buildout, the project will encompass more than 138 acres of improved parks, all paid for through developer impact fees. School sites will add another 80 public outdoor acres.
Two of the parks will be full community parks of 26 acres and more than 50 acres. These will provide sports fields, playgrounds, picnic areas, interactive features, dog parks and the like with an aquatic center planned for the larger of the sites. In addition, there will be five neighborhood parks of about 10 acres each with play equipment and spacious lawns for kids and families.
Every elementary school will be adjacent to a park, expanding the outdoor effect of school grounds, and most park sites also will abut natural open space with access to trails, said Robert Goss, Folsom's parks and recreation director.
The parks are spaced throughout the plan area so that all residents have easy access to them, Goss reported. They will be built as the neighborhoods and schools are completed.