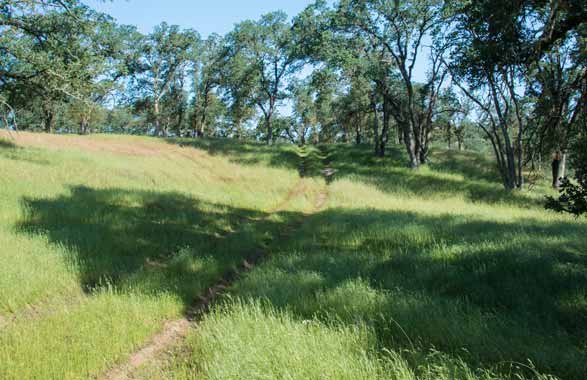 In addition to dedicating 1,000 acres as permanently protected open space, protecting hundreds of acres of oak woodlands, and creating an additional 138 acres of community and public parks, Folsom Ranch adds a special amenity:  more than 30 miles of new paths and bike trails.
"Known for its trails"
One of Folsom's greatest riches – of many – is its trails. A vast network of improved bikeways and paths lead through picturesque landscapes, over bridges and around parks and neighborhoods. On any clear day in Folsom, scores of people of all ages – visitors as well as residents – will be seen walking or riding along its diverse pathways.
"Folsom is known for its trails," said Robert Goss, director of parks and recreation. Trails are one of the top three recreation amenities people look for in a community, he said, and one reason Folsom so frequently turns up on "best places to live" lists.
With a dense 40 miles of often-stunning bikeways north of Highway 50, and 10 more still to be built, it's hard to imagine Folsom Ranch can compare. But it will. In fact, the area will have even more trails for the space: a generous 30 miles or more on acreage only 20 percent the size of the pre-annexation city.
"That's at least 70 miles total of off-street trails," Goss points out.
A whole new trail system for Folsom
When it came to planning trails, Folsom Ranch had a great advantage, said Jim Konopka, senior planner for trails development. That is, the trails could be defined as the project was being designed, not wedged in later. The result is a trails system that is interconnected, practical and functional as well as recreational and inviting.
Several major trails, along with many shorter ones, will course through the new development. Here's what you can expect:
Trails in pristine areas, notably along Alder Creek and through the oak woodlands, that have not been encountered by humans in decades.
Trails that connect to all the parks and schools so kids and families can ride or walk to these destinations.
An unbroken ride all the way to the American River Parkway and even beyond through the gateway that provides.
Safe rides through gorgeous rolling terrain as well as along bike lanes in neighborhoods and throughout the area's town center.
Trails that lead to transit facilities for commuting and travel connections.
Trails that will take you to shopping centers and events, enabling you to leave your car at home.
And as a bonus, Goss adds one more advantage: The alluring trails will motivate people to get outdoors and be active, promoting a community that's healthy and happy.
And they're always free.