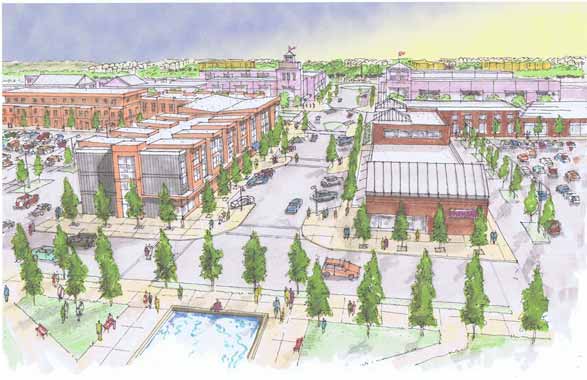 As Folsom Ranch is the heart of the new plan area, the town center is its heartbeat. Modeled after a small-city downtown, this compact village forms the area's central core, providing the project with a sense of community that's often lacking in suburban neighborhoods.
Community vision
The town center at Folsom Ranch evolved from a community visioning process that city leaders spearheaded in 2005.  Hundreds of Folsom residents participating in the focus group explained what drew them to Folsom and what they hoped to see in the plan area.  One of the outcomes was an expressed desire to see the town center designed in a walkable, grid-like pattern.
The town center can be seen near the central portion of the plan map as a collection of small blocks surrounded by large, loose shapes – city streets amid suburban neighborhoods. Those blocks, laid out in a classic grid pattern, will encompass high-density single- and multi-family housing along with commercial and civic buildings. It is here the residents will come to transact business at a city hall annex, visit a branch library, swim at the new aquatic center, attend events at the community center, stroll the town green, perhaps go to work or simply shop or dine.
A place to gather
Along with the Historic District and Palladio, "the Folsom Ranch design plan adds a third urban activity center to Folsom," said David Miller, Folsom's former director of public works and community development.  "Public spaces are carefully designed to accommodate large numbers of people in entertainment venues, public celebrations, farmers markets, fairs and other activities that focus on gathering and social interaction."
Access will be easy. All roads and transportation modes lead there. The two main thoroughfares, Easton Valley Parkway and Scott Road, intersect at the town center, and the district is a nexus for public transportation, biking and walking routes.
Safe and walkable
Walking is a key feature of the town center. Measure W requires walkability in the whole plan area, but the people who live in the town center, or the visitors here, can truly enjoy a diverse lifestyle without vehicles.
The perpendicular streets slow traffic and with safe crossings, wide sidewalks and bike lanes, offer optimum conditions for pedestrians and bicyclists to get around. Intersections will have signaled crosswalks, and some will allow "scramble" crossing: At "scramble" intersections, all signals turn red at the same time so walkers in all directions can cross at once, even diagonally. This signal pattern has been shown to reduce pedestrian accidents.
Urban living at its best
The town center will represent urban living at its best: the convenience of a city lifestyle joined with the amenities of rural life. And, as Mayor Steve Miklos said, "you can literally live, work and play there without ever having to get into your car."